Call, Email Or Book Online at Little Lodge Walcote
You can book directly with us online, email us, send us a message with the online form or give us a call! This allows us to provide you with the best rates, special offers and avoids both of us incurring unnecessary booking fees or additional commission.
If you would like exclusive use or require a booking for a group, be sure to give us a call so we can prepare for your stay.
You can pay online using the live availability booking system and pay by credit or debit card for instant confirmation.
Feel free to call us directly on 01455 550949
Email your booking request to info@littlelodgewalcote.co.uk
Click here to book online directly with us
We do not take a deposit when booking direct but will require credit card and address details to secure the booking. This is in lieu of a deposit and charges will not be made until arrival except in the case of cancellations.
Cancellation Policy
Within 10 days of booking a 50% charge will be made
Within 48 hours the full room rate will be charged 
Send a request and we'll call you back to confirm your booking
Little Lodge
Walcote
Lutterworth
Leicestershire
LE17 4JW
Call us anytime between:
09:00 AM – 21.00 PM
Monday – Sunday
Phone: 01455 550949
Mobile: 07999 144124
Email: info@littlelodgewalcote.co.uk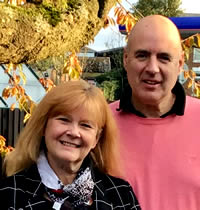 Tom & Karen Welcome You To Little Lodge
Tom & Karen welcome you to stay at their wonderful B&B – Little Lodge in Walcote, Leicestershire. As the owners they strive to look after their guests and ensure your stay is a memorable one – for the right reasons!